Life Group Leaders
How do I become an In His Grip Life Group Discussion Leader?

An In His Grip Life group will only be successful if a committed leader is involved during its formation. If you are interested in becoming an In His Grip Life group discussion leader please listen to this video from Scott Lehman and follow the steps below.
Step #1 - Life Group Leader Self Assessment
Take the Leadership self-assessment inventory to determine if you are ready to take the next step.
Step #2 - Who will be part of the core start up group?
Ask God to assemble a team of guys for the start up. Find at least one other person (or a team of 3-5) who have a solid faith foundation to support the start of the group. If you have 3-5 guys that each invite one person into the group you have 6-10 guys to start the group.
Step #3 - Fill out the Life Group Discussion Leader Form
Please fill out the form below if you are interested in facilitating a life group. This includes contact information, your personal story/testimony and where and when you would like to start a life group (if you have that information) and the commitments. Once this is completed you will receive a phone call in 2-3 days to review and answer any questions you may have and next steps.
How do I get an In His Grip Life Group Started?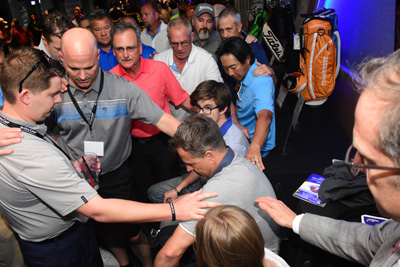 Step #1 - Start with Prayer
To see a movement of the Holy Spirit
Bring the guys that God wants there
Pray for fertile soil
Pray for humility
Step #2 - Let the Club/Facility Know
Communicate with the appropriate club/facility officials your intent to form an In His Grip Life Group.
Step #3 - Determine Location, Day of Week and Time for your Weekly Meetings-
Send to In His Grip Golf to get set up on the master calendar.
Step #4 - New Guests
As the word spreads guys may want to invite friends. Be sure these first time guests are welcomed into the group. Be sure to give them a GRIP card.