Share Your Story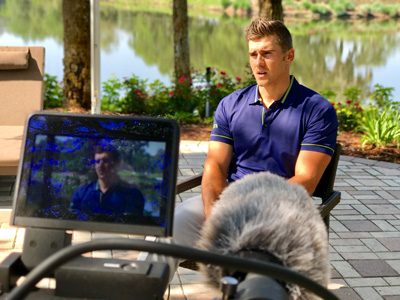 For more than a decade we have witnessed countless impacts of God's grace, forgiveness and love. From the seemingly simple to the dramatic and profound, His favor has been evident. Men's lives have been changed. And with them, in many cases, the lives of their families and close friends have been influenced, too.
One of the most powerful ways we communicate is through stories. As we share personal experiences, it blesses not only the recipients but also the communicator. Will you share your story of how God has impacted your life through In His Grip? We are confident that your particular experience is exactly what someone needs to hear/read.
Simply write what is real to you. No need for perfection or professionalism. And if you do not want your story to be shared publicly, please indicate that. We'd still love to hear from you.
Read Stories
Chuck Abbot
CEO TN GrayLines
I've played "at" golf since I was in my early teens. My Dad tried to show me the game, but I wasn't a very attentive student (and he was not a patient teacher). So, for most of my life, golf was just a hobby…something to do whenever there was time. It wasn't until I joined the Nashville Golf and Athletic Club that I actually tried to play the game of golf. Now I'm concentrating on the basics – going to the range, making tee times and being intentional about improving my swing, my focus and my course management. While I'm not as consistent as I would like to be, I am improving.
It was at Nashville Golf and Athletic that I met Brian Jorgenson, and then, through his incredible spiritual journey, I had the opportunity to meet Scott Lehman and was introduced to In His Grip Ministries. The faith and devotion that Brian has shown these past months has been an inspiration to me, and to hundreds, maybe thousands of other men. In His Grip on Wednesday mornings at NGAC has become an important part of my spiritual life.
I grew up in the Church, but up until about 10 years ago, I approached my walk with God much the same way I had approached golf – playing "at" faithfulness rather than taking it seriously. I think a lot of men are in the same place - desiring to seek the heart of God, but unsure how to do it, and maybe without a good teacher or coach to help them. In His Grip is a time to be intentional about our walk with God – making that "tee time" and working on the basics.
What I gain most from the In His Grip Life Group on Wednesday mornings is perspective. Men of all ages, walks of life and religious backgrounds come together to hear God's word. We explore what the words mean at the heart level, apply that instruction more directly in our lives, and then close out the morning by praying over a brother in Christ who may be in need of encouragement. This world needs strong men of God who have the confidence that comes from knowing what they believe, and why, and then step up to accomplish what they are called to do as leaders in their homes, their churches and their workplace. We may not all be consistent in our walk with God, but by working on our GRIP each Wednesday morning, we are improving.
Bob Jones IV
I originally met Scott Lehman through a mutual friend. We had arranged to have coffee at my church, First Redeemer Church in Cumming, Georgia. At that meeting, the Holy Spirit really touched my heart as Scott shared his passion with me. He told me what God was doing with the IHG ministry. Following our meeting, I was all in with In His Grip.
Men are so often forgotten in our modern church life and frequently, when programs need to be cut, it is men's programs that first feel the bite. However, nothing is more important to our world than godly men and IHG provides not only the opportunity for men to hear the Gospel message of Jesus' love and sacrifice for us, but also the opportunity for fellowship and play through the game of golf. I love my brother Scott, I love In His Grip, and - most of all - I love my Lord and Savior Jesus Christ.