Share Your Story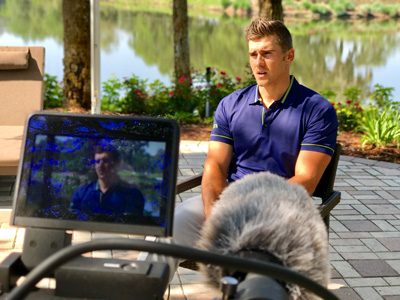 For more than a decade we have witnessed countless impacts of God's grace, forgiveness and love. From the seemingly simple to the dramatic and profound, His favor has been evident. Men's lives have been changed. And with them, in many cases, the lives of their families and close friends have been influenced, too.
One of the most powerful ways we communicate is through stories. As we share personal experiences, it blesses not only the recipients but also the communicator. Will you share your story of how God has impacted your life through In His Grip? We are confident that your particular experience is exactly what someone needs to hear/read.
Simply write what is real to you. No need for perfection or professionalism. And if you do not want your story to be shared publicly, please indicate that. We'd still love to hear from you.
Read Stories
Chuck Abbot
CEO TN GrayLines
I've played "at" golf since I was in my early teens. My Dad tried to show me the game, but I wasn't a very attentive student (and he was not a patient teacher). So, for most of my life, golf was just a hobby…something to do whenever there was time. It wasn't until I joined the Nashville Golf and Athletic Club that I actually tried to play the game of golf. Now I'm concentrating on the basics – going to the range, making tee times and being intentional about improving my swing, my focus and my course management. While I'm not as consistent as I would like to be, I am improving.
It was at Nashville Golf and Athletic that I met Brian Jorgenson, and then, through his incredible spiritual journey, I had the opportunity to meet Scott Lehman and was introduced to In His Grip Ministries. The faith and devotion that Brian has shown these past months has been an inspiration to me, and to hundreds, maybe thousands of other men. In His Grip on Wednesday mornings at NGAC has become an important part of my spiritual life.
I grew up in the Church, but up until about 10 years ago, I approached my walk with God much the same way I had approached golf – playing "at" faithfulness rather than taking it seriously. I think a lot of men are in the same place - desiring to seek the heart of God, but unsure how to do it, and maybe without a good teacher or coach to help them. In His Grip is a time to be intentional about our walk with God – making that "tee time" and working on the basics.
What I gain most from the In His Grip Life Group on Wednesday mornings is perspective. Men of all ages, walks of life and religious backgrounds come together to hear God's word. We explore what the words mean at the heart level, apply that instruction more directly in our lives, and then close out the morning by praying over a brother in Christ who may be in need of encouragement. This world needs strong men of God who have the confidence that comes from knowing what they believe, and why, and then step up to accomplish what they are called to do as leaders in their homes, their churches and their workplace. We may not all be consistent in our walk with God, but by working on our GRIP each Wednesday morning, we are improving.
Bob Jones IV
I originally met Scott Lehman through a mutual friend. We had arranged to have coffee at my church, First Redeemer Church in Cumming, Georgia. At that meeting, the Holy Spirit really touched my heart as Scott shared his passion with me. He told me what God was doing with the IHG ministry. Following our meeting, I was all in with In His Grip.
Men are so often forgotten in our modern church life and frequently, when programs need to be cut, it is men's programs that first feel the bite. However, nothing is more important to our world than godly men and IHG provides not only the opportunity for men to hear the Gospel message of Jesus' love and sacrifice for us, but also the opportunity for fellowship and play through the game of golf. I love my brother Scott, I love In His Grip, and - most of all - I love my Lord and Savior Jesus Christ.
Bruce Pulver
Having a brotherhood and community of men connected by the 30/30 In His Grip Challenge is such a welcomed and valuable support system.
What In His Grip has created has giving me a vital and what was a missing part of my morning routine AND a safe place to be open and honest with my struggles, challenges and doubts.
I have a place now to grow un- encumbered as my authentic self.
Chris
I really appreciate your ministry. It has had an impact on my life, especially the 30/30 Challenge. I invited my friend to join in on the challenge with me. Now, on Friday nights when we talk on the phone, we go thru our Scripture verses from the week and what God has taught each of us. It's given us the opportunity to learn from each other and help us both grow spiritually.
Stephen McGory
One word, for me, that sums up what "The 30/30 Challenge" has meant to me is revitalization. The verse that stood out in Proverbs 28 is verse 26: The one who trusts in himself is a fool, but the one who walks in wisdom will be safe. There is a humility that comes with acknowledging God, seeking His wisdom in all things. When we feel that we've accumulated some personal/professional experience in life, some degree of success and/or some material possessions, be aware of the trap of complacency. Be mindful of not thinking that one has gained a full understanding but rather look to Him for guidance, direction and knowledge...and trust Him to provide wisdom to lead one in a direction He feels most appropriate.
Charlie Moore
Thanks so much for leading the 30/30 challenge. The word that comes to mind is consistency. Sounds minor but so critical to our walk and growing closer to our Lord. I invited my buddy in PA, we've been friends since 8, to the challenge and we've shared some similar themes.
I have written in a journal before, but it's been a long time since I've been this consistent. I heard God speak through His word, regarding wisdom, choices, patience and mostly reminding me I am a child of God so why should I doubt what a big God can do. It all comes down to trusting Him more each day!
Henry Noey
Thanks for the gift of this challenge. You asked for a word or phrase but I'm going to give you a little more. This has changed my time with God from a duty or activity to be checked off the list to something that I look forward to on a daily basis. The GRIP format allows me to have a conversation with him and to consume and internalize his direction in a way that I have not been able to hear before. And looking back over the selected scripture, reveal, and instruction makes a very interesting guidebook for following his word.
Bruce Nagel
"Doc", Semi-Retired Dentist, 46 years
I grew up going to church every Sunday so I knew all about God and Jesus. When I was 17 my Sunday School teacher told me I should have a relationship with Jesus and know Him as my personal Savior. The next year I went to the university and joined a fraternity, which I enjoyed and made lifelong friends, but I started straying off the path. In February 1967 God knew what I needed and set before me the most beautiful young lady, who is my wife of 49 years. God used her to get back on track for him! In 1977 I decided to quit playing basketball and baseball and took up GOLF! It became my game. I found golf to be a spiritual game, when you hit a ball on the sweet spot that feeling goes right into your soul! Just like life you have good & bad shots, you have good & bad breaks, but it's still the best game ever given to man. I have 4 sons and I taught them to play and we have had some great father-son golf trips! I can't tell you how we've bonded on the golf course! In 1997 I got the book IN HIS GRIP and PLAYING THE GAME. When I saw Scott Lehman on Facebook touting his In His Grip organization it caught my eye. And then when he invited us men to join him in 30 day Bible study. I have always risen early every day to have time with the Lord, so joining for an online study is a plus for me. The Holy Spirit has inspired Scott and his daily message has greatly impacted me! The 2 weeks with Jack Countryman was also such a blessing. Several of the days I was facing some difficult circumstances and the study for that helped to settle things in my soul and allow the Holy Spirit to lead me. So thanks, Scott for all you are doing to help us with our daily Tee Time with the Father.
Tony Caico
President - Affinity Five Search Group
I've been extremely blessed by the recent 30/30 Challenge. I feel like my spiritual life has been greatly enhanced through my daily tee time with The Lord. I grew up on Long Island, NY; was raised Catholic; but was never quite taught about what it was like to have a relationship with Jesus Christ. As a result, the dude that resides a bit further south got a grip on me from a very young age; and I started being very attracted to the things of this world. I had a strong desire and affinity for, girls, drugs, alcohol, gambling, money, power, and prestige. This lifestyle continued for the better part of 30 years of my adult male life; and I became an expert at masking my private and sinful life from the people closest to me. I was an athlete and good student and received a scholarship to play sports in college; and graduated into a very successful business career. In 1993, I got married; and proceed to have 5 kids (not a typo ??). Unfortunately, my sinful desires had me living a double life for so many years; it became part of who I was. In 2009 when the mortgage banking meltdown came; my life crashed alongside. You see, I ran a $6BB business for the largest bank in the world in the highest risk mortgage group (Home Equity). I lost my job, my house; and eventually; my family. It was bad; but for some reason; I still didn't turn to God. I started to get my life back on track when I had a vision to write a book about the 2nd half of my life; My Back Nine. I wrote and published the book, got a life coaching certification and figured that I would start a business of coaching other white color guys that got caught up and lost their identity in what they did as opposed to who they were. It was a good plan, but The Lord wasn't in it at all; and a few years after that; I crashed again. This time I ended up in rehab thanks to my sister, who was the only Christian in my family. While in rehab, I finally surrendered to Christ on the kitchen floor of the rehab center while scrubbing the grease off the frying on chore day. The Lord met me right here; and said, "This is where we do this Tony". Life has been better ever since; not perfect, but better. Over the last few years, things really started improving as my faith elevated; and right now; as I write this; my spiritual life is better than it has ever been. I'm on fire for Christ these days. I found a great church (1122 in Jacksonville, FL), have a thriving new executive search business, and a beautiful new fiancée.
I want to thank Scott and the IHG Ministries for meeting me at a perfect time in my walk with God; my life (and mornings) will never be the same as a result of of this awesome 30/30 challenge; which right now; stands at 69 days straight.